Aloha , here is the latest Red Book contract for you to view 
---
Aloha Hawaiian Ohana, the seniority lists are being posted for you to view in the 141 and 142 news sections. If you have any questions or concerns please reach out to your shop stewards or committee members as soon as possible. 
---
Some of our newest members at PPG 

---
---
" WELCOME TO THE I.A.M. AMERICAN SAMOA MECHANICS"
---
Lets give a warm welcome to our newest IAM members , Congratulations to the Hawaiian Airlines Maintenance planners !!!
---
Check out some of your hard working maintenance team changing the nose gear tires out on an A330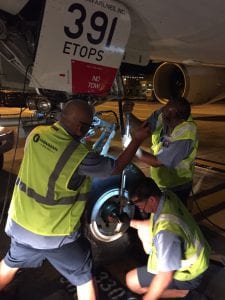 ---
Did you know that all our 717's get rinsed at night to help cut down on salt corrosion ? Here is one of our Wash crew team in the water truck hosing down a plane !